You are here
Design and use of crowdsourcing geographic data collection system during the monitoring phase of Environmental Impact Assessment reports
Visual abstract: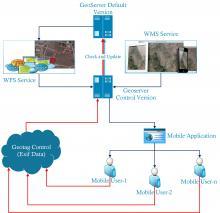 Abstract:
When the whole earth is considered as a geographic place, it is clearly seen that the physical and social processes in the Earth's crust have a direct or indirect connection with geography. In this century named information era, it is vital to find new solutions to people's problems by getting different results from gathering, providing, and querying information.
Geographic information systems are frequently used in the preparation and implementation stages of environmental impact assessment (EIA) projects. However, the failure to use spatial data effectively during the monitoring phase, which is the final step of the assessment process, causes the inability to determine whether the activities undertaken in the report are implemented. This situation causes EIA reports and activities to be questioned or even not accepted by the public.
By inter-organizational data sharing, geographical data needs can be met and duplicate data productions can be avoided. However, the problem of updating the geographical data provided always comes out as the real problem. At this point, there are approaches that are defined as Crowdsourcing which refers the way of solving the problems of the institutions by utilizing the knowledge and experience outsourced. The most important institutional concern regarding crowdsourcing and geographical data extraction reveals itself as data consistency and accuracy.
With the system developed within the scope of this study, the status of EIA projects in implementation with the development of the project will be effectively controlled with the participation of the administration and the public. A crowdsourcing-based system has been prepared and introduced to ensure the participation of the public. With this study, the development of the project and the problems experienced during the monitoring phase can be controlled. Thus, it will be ensured that any negative situation that could be experienced will be prevented or minimized in a way that will not harm the environment.
Keywords:
crowdsourcing, database updating, data generation, geographic databases, GIS