You are here
Ziziphus Jujube Seeds derived Biomass as Cost-Effective Biosorbent for the removal of Cr6+ from Aqueous solutions: Isotherm and Kinetic Studies
Paper Topic:
Water and Wastewater Treatment
Visual abstract: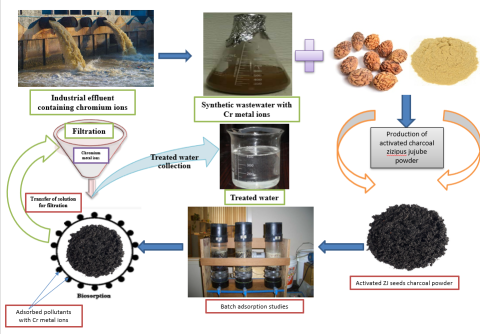 Abstract:
Biosorption of hexavalent chromium ions from the synthetic solution was performed using activated Ziziphus jujube seeds powder as an adsorbent material. A chemical synthesis process prepared the adsorbent, and various methods have evaluated its characteristics. FTIR, SEM and EDX analysis was conducted to check the ability of hexavalent chromium uptake from the synthetic solutions. Batch mode of adsorption process was performed and the adsorption parameters of pH, concentration, dose, contact time and temperature were found in various operating conditions. The entire adsorption process was evaluated by isotherm and kinetic models to check the nature of the adsorption process and its chemical reactions. Thermodynamic studies were conducted, desorption studies were used to recover the spent adsorbent using concentrated hydrochloric acid.
Keywords:
Batch adsorption, Ziziphus Jujube seeds, Hexavalent chromium, Isotherm studies, Kinetic studies.