You are here
Spatialization of ECOS method at micro-basin level in rural development-oriented ecotourism planning
Paper Topic:
Environmental Management and Policies
Visual abstract: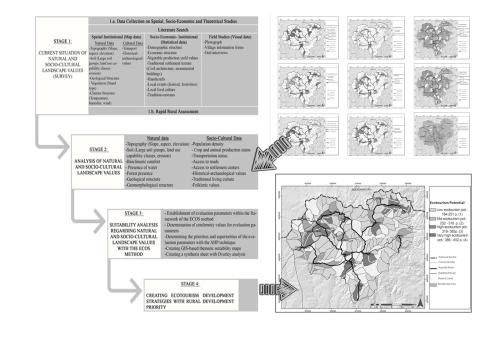 Abstract:
This research discusses the prediction that "within the framework of the principles of sustainable development; in regions deemed suitable for ecotourism activities, spatial planning is required, which includes a 'spatial sensitivity', 'participatory understanding' and 'holistic use'". Within the framework of the hypothesis developed; a new method approach was developed for Kofçaz/Kırklareli sample, located in northwest Turkey, that could be incorporated into future ecotourism policies and plans with ECOS and AHP Method, which can be adapted to the space on a micro-basin basis. During the inventory phase of the study and determination of the current situation, a database was created in the GIS environment on the basis of 145 micro-basins determined by the philosophy of the basin and sub-basin of the data on natural and cultural landscape elements. 6 basic criteria, 23 evaluation factors and 73 sub-evaluation criteria were determined with ECOS method developed in the light of RRA Technique and literature findings to be applied in the field. To determine the priority values and ranking of the main and lower criteria, weight scores related to evaluation criteria were determined from 12 individuals via the AHP technique. Conformity values and conformity coefficients for the specified basic and sub-criteria were analyzed at 145 micro basin levels and thematic maps were created. With overlay analysis, synthesis pad was created, appropriate areas for ecotourism were determined, and ecotourism management strategies focused on rural development were developed. These results can be integrated into basin-scale spatial planning that stands out both nationally and internationally.
Keywords:
Ecotourism, ECOS, Kırklareli.